All > Tyres > DUNLOP Tyres - OFF ROAD > Dunlop GEOMAX AT81 - Trail/Enduro
Dunlop GEOMAX AT81 - Trail/Enduro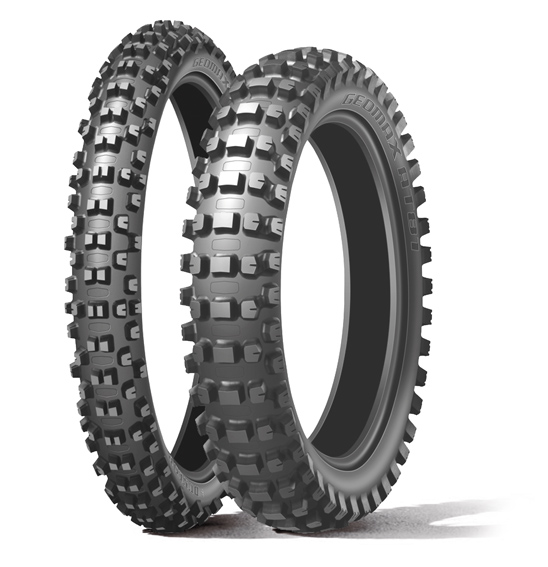 Dunlop's vast championship experience and development expertise has been infused into the next generation Geomax® AT81™. These new Geomax tyres offer more all-around performance plus higher levels of ruggedness for off-road racing and riding.
AT81 rear tread block shape and distribution plus DIRTuitive Grip Design (DGD) knobs help the tyre penetrate down through the surface dirt for extra traction across a broad range of off-road applications.
Newly formulated high-wear-resistant rear tyre compound offers enhanced chipping, tearing and wear appearance.
Geomax AT81 rear tyre carcass features two nylon plies.
Lateral grooves on the shoulder knobs provide additional biting edges and also allow the knobs to be more flexible.
Rear center blocks are arranged in-line to provide a larger contact patch for maximum traction.
Dunlop's "plush pad" recess design between tread blocks enhances compliance for bump absorption and ride comfort.
Front tyre construction includes two plies of nylon wrapped with a third ply of polyester for a strong base.
Stock information for Dunlop GEOMAX AT81 - Trail/Enduro
| Product # | Description | RRP * | Dealer |
| --- | --- | --- | --- |
| 478.5705 | 110/90-18 AT81 INTERMEDIATE | $ 165.12 | Find a dealer |
| 478.5740 | 110/100-18 AT81 INTERMEDIATE | $ 176.13 | Find a dealer |
| 478.5876 | 120/90-18 AT81 INTERMEDIATE | $ 175.29 | Find a dealer |
| 478.6785 | 90/90-21 AT81F INTERMEDIATE | $ 133.63 | Find a dealer |
* including g.s.t. but excluding freight charges if any
** excluding g.s.t. and freight