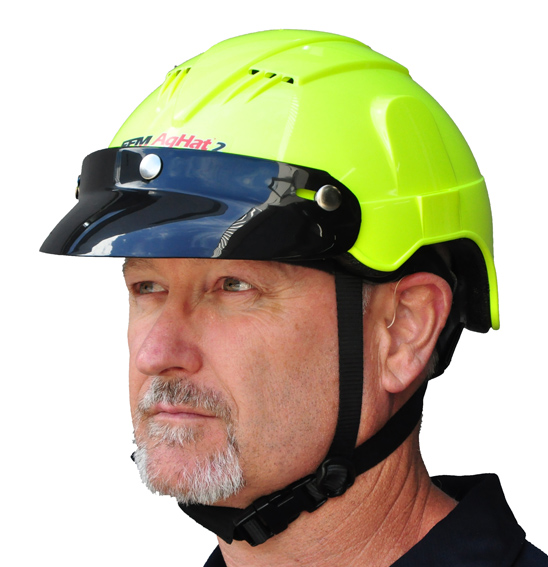 The best-selling AgHat ATV Helmet has evolved. Introducing the FFM AgHat 2 ATV Helmet with new features, new colours and enhanced comfort.
Features:
Multi-fit ATV helmet: One helmet to fit as many heads as possible (adjustable)
3 Domes fitted to front for accessories (peaks and visors)
Peak supplied standard
Choice of 6 colours: White, Black, Fluoro Yellow, Fluoro Orange, ATV Red, & Limited Edition Safety Blue
Unimpeded visibility and hearing
Lightweight: Weighs only 590gm
Improved operation of Adjustor Wheel (still easy to tighten but more resistant to loosening)
DUAL SAFETY STANDARD: AS/NZS1801:1997 (Type 1) PLUS NZS 8600:2002 (ATV)
Softer, and more wickable material used on front brow of harness
Summer vented comfort pad replaces the two strips of foam for enhanced comfort
Winter comfort pad (non-vented) available as optional extra
Still compatible with AgHat 1 accessories (Overhat, Brim, Forestry Visor, Earmuffs)
*NEW ATV Red & limited edition Safety Blue NOW available! 
IMPORTANT NOTICE: The high visibility materials used in the colouring of the fluoro yellow and fluoro orange helmets are prone to some fading with prolonged exposure to NZ's high UV sunlight. However, this does NOT compromise the safety of the AgHat 2.
| Product # | Description | RRP * | Dealer |
| --- | --- | --- | --- |
| 416.1000 | AgHat2 ATV HELMET WHITE MULTI FIT | $ 149.51 | Find a dealer |
| 416.1010 | AgHat2 ATV HELMET BLACK MULTI FIT | $ 149.51 | Find a dealer |
| 416.1020 | AgHat2 ATV HELMET YELLOW FLUORO MULTI FIT | $ 149.51 | Find a dealer |
| 416.1030 | AgHat2 ATV HELMET ORANGE FLUORO MULTI FIT | $ 149.51 | Find a dealer |
| 416.1040 | AgHat2 ATV HELMET RED MULTI FIT | $ 149.51 | Find a dealer |
| 416.1050 | AgHat2 ATV HELMET SAFETY BLUE MULTI FIT | $ 149.51 | Find a dealer |
| 416.2000 | EARMUFF FR AGHAT 2728- Use #416.2001 when stk finished | $ 88.02 | Find a dealer |
| 416.2001 | EARMUFF FR AGHAT T1H wth Adaptors | $ 40.62 | Find a dealer |
| 416.2002 | HOWARD LEIGHT 'LEIGHTNING' HI-VIS HELMET FIT EARMUFF FLUORO YELLOW/GREEN | $ 89.99 | Find a dealer |
| 416.2005 | SLIP LOCK HELMT ADPT ATV HELMET 3713 CLOSED OUT | $ 10.44 | Find a dealer |
| 416.2010 | FORESTRY VISOR for AGHAT ATV HELMET | $ 60.46 | Find a dealer |
| 416.2020 | AGHAT OVERHAT WITH NECK CURTAIN | $ 80.19 | Find a dealer |
| 416.2025 | AGHAT BRIM/NECK CURTAIN COMBO BLACK | $ 51.80 | Find a dealer |
| 416.2027 | AGHAT Crown Comfort Pad (winter, unvented) | $ 8.95 | Find a dealer |
| 421.0350 | BLK PEAK WTH FLIP UP VISOR ALSO FITS AGHAT2 | $ 30.53 | Find a dealer |
* including g.s.t. but excluding freight charges if any
** excluding g.s.t. and freight