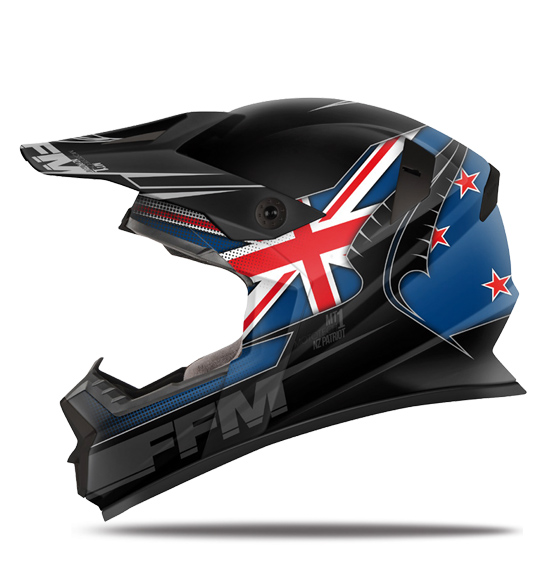 NZ Patriot (Limited Edition)
The new FFM MotoTech 1 takes protection, style, comfort and affordability to a new level.
FEATURES:
Aerodynamic fibreglass composite weave constructed shell

Dual air intakes & rear exhaust vents

Adjustable peak

Removable and washable lining and cheek pads

Double D-Ring fastening

ECE 22.05 Safety Standard

Weighs 1300g

Available in "Pacer" and limited edition "NZ Patriot" graphics

Sizes S to XXL
NOTE: Sizing for these helmets tends to be slightly smaller (than some other brands). We recommend going up a size from your regular helmet size.
| Product # | Description | RRP * | Dealer |
| --- | --- | --- | --- |
| 422.7102 | FFM MotoTech1 PACER BLU/YEL/BLU SML 56cm | $ 279.95 | Find a dealer |
| 422.7103 | FFM MotoTech1 PACER BLU/YEL/BLU MED 58cm | $ 279.95 | Find a dealer |
| 422.7104 | FFM MotoTech1 PACER BLU/YEL/BLU LRG 60cm | $ 279.95 | Find a dealer |
| 422.7105 | FFM MotoTech1 PACER BLU/YEL/BLU XLG 62cm | $ 279.95 | Find a dealer |
| 422.7106 | FFM MotoTech1 PACER BLU/YEL/BLU XXL 64cm | $ 279.95 | Find a dealer |
| 422.7107 | FFM MotoTech1 PEAK PACER BLU/YEL/BLU | $ 55.36 | Find a dealer |
| 422.7112 | FFM MotoTech1 PACER RED/BLK/RED SML 56cm | $ 279.95 | Find a dealer |
| 422.7113 | FFM MotoTech1 PACER RED/BLK/RED MED 58cm | $ 279.95 | Find a dealer |
| 422.7114 | FFM MotoTech1 PACER RED/BLK/RED LRG 60cm | $ 279.95 | Find a dealer |
| 422.7115 | FFM MotoTech1 PACER RED/BLK/RED XLG 62cm | $ 279.95 | Find a dealer |
| 422.7116 | FFM MotoTech1 PACER RED/BLK/RED XXL 64cm | $ 279.95 | Find a dealer |
| 422.7117 | FFM MotoTech1 PEAK for PACER RED/BLK/RED | $ 55.36 | Find a dealer |
| 422.7122 | FFM MotoTech1 PACER ORG/BLK/ORG SML 56cm | $ 279.95 | Find a dealer |
| 422.7123 | FFM MotoTech1 PACER ORG/BLK/ORG MED 58cm | $ 279.95 | Find a dealer |
| 422.7124 | FFM MotoTech1 PACER ORG/BLK/ORG LRG 60cm | $ 279.95 | Find a dealer |
| 422.7125 | FFM MotoTech1 PACER ORG/BLK/ORG XLG 62cm | $ 279.95 | Find a dealer |
| 422.7126 | FFM MotoTech1 PACER ORG/BLK/ORG XXL 64cm | $ 279.95 | Find a dealer |
| 422.7127 | FFM MotoTech1 PEAK for PACER ORG/BLK/ORG | $ 55.36 | Find a dealer |
| 422.7132 | FFM MotoTech1 PACER YEL/BLK/RED SML 56cm | $ 279.95 | Find a dealer |
| 422.7133 | FFM MotoTech1 PACER YEL/BLK/RED MED 58cm | $ 279.95 | Find a dealer |
| 422.7134 | FFM MotoTech1 PACER YEL/BLK/RED LRG 60cm | $ 279.95 | Find a dealer |
| 422.7135 | FFM MotoTech1 PACER YEL/BLK/RED XLG 62cm | $ 279.95 | Find a dealer |
| 422.7136 | FFM MotoTech1 PACER YEL/BLK/RED XXL 64cm | $ 279.95 | Find a dealer |
| 422.7137 | FFM MotoTech1 PEAK for PACER YEL/BLK/RED | $ 55.36 | Find a dealer |
| 422.7142 | FFM MotoTech1 PATRIOT BLK/GUN/BLU SML 56cm | $ 299.90 | Find a dealer |
| 422.7143 | FFM MotoTech1 PATRIOT BLK/GUN/BLU MED 58cm | $ 299.90 | Find a dealer |
| 422.7144 | FFM MotoTech1 PATRIOT BLK/GUN/BLU LRG 60cm | $ 299.90 | Find a dealer |
| 422.7145 | FFM MotoTech1 PATRIOT BLK/GUN/BLU XLG 62cm | $ 299.90 | Find a dealer |
| 422.7146 | FFM MotoTech1 PATRIOT BLK/GUN/BLU XXL 64cm | $ 299.90 | Find a dealer |
| 422.7147 | FFM MotoTech1 PEAK for PATRIOT BLK/GUN/BLU | $ 55.36 | Find a dealer |
* including g.s.t. but excluding freight charges if any
** excluding g.s.t. and freight