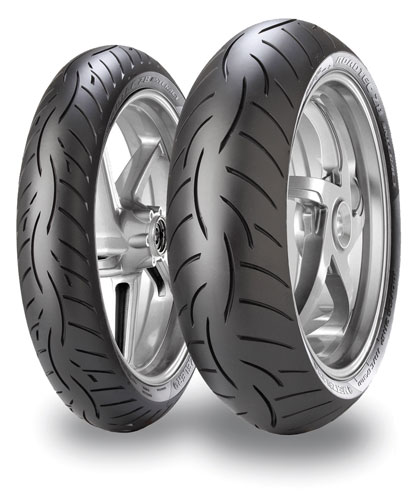 Roadtec Z8 Interact™ - Enjoy the distance, safely.
Interact™ Technology

 with three zone steel string tension layout that enhances ride enjoyment: High Mileage and Safety Feeling when cornering.
Dual compound on rear (M) and (O) version, with five zone steel string tension layout provide the best wet performance in the Sport Touring segment.
Riding easiness, Predictability, Neutrality in maneuvers.
CMT (contour Modeling Technology) delivers more intuitive and effective handling characteristics.
π shaped tread pattern design provides improved water drainage, safety on wet and modern look.
"C" = heavy sport touring bikes, 2 plies rayon for improved stability;  "M" rear = Dual-Compound, Single ply constuction;  "O" = Dual-Compound, 2 ply construction; "M" front = Single-Compound with 100% Silica.
"F" originally produced as an OE fitment. Same spec as "M" front & "O" rear.
METZELER ROADTEC™ Z8 INTERACT™ named best sport touring tyre for the German magazine Motorrad.
June 2015. The tyre has won the comparative test organized by this authoritative publication excelling against competitors thanks to the excellent values shown at the level of grip, handling, mileage and wet behaviour.
| Product # | Description | RRP * | Dealer |
| --- | --- | --- | --- |
| 476.1467 | 110/70-17ZR ROADTEC Z8 TYRE | $ 201.15 | Find a dealer |
| 476.1807 | 120/60-17ZR ROADTEC Z8 INTERACT TYRE | $ 214.65 | Find a dealer |
| 476.4332 | 120/70-17ZR ROADTEC Z8 INTERACT (M) TYRE | $ 214.65 | Find a dealer |
| 476.4677 | 150/70-17ZR ROADTEC Z8 INTERACT | $ 282.15 | Find a dealer |
| 476.4810 | 160/60-17R ROADTEC Z8 INTERACT | $ 282.15 | Find a dealer |
| 476.5330 | 170/60-17R ROADTEC Z8 INTERACT | $ 322.65 | Find a dealer |
| 476.5725 | 180/55-17R ROADTEC Z8 INTERACT "O" | $ 322.65 | Find a dealer |
| 476.5881 | 190/50-17R ROADTEC Z8 INTERACT "M" | $ 336.15 | Find a dealer |
| 476.58810 | 190/50-17R ROADTEC Z8 INTERACT "O" | $ 322.65 | Find a dealer |
| 476.58828 | 190/55-17R ROADTEC Z8 INTERACT "M" | $ 322.65 | Find a dealer |
| 476.5883 | 190/55-17R ROADTEC Z8 INTERACT "C" or "O" | $ 385.78 | Find a dealer |
| 476.5955 | 110/80-18ZR ROADTEC Z8 | $ 272.32 | Find a dealer |
| 476.6042 | 120/70-18R ROADTEC Z8 INTERACT | $ 304.52 | Find a dealer |
| 476.6610 | 160/60-18ZR ROADTEC Z8 INTERACT | $ 368.48 | Find a dealer |
* including g.s.t. but excluding freight charges if any
** excluding g.s.t. and freight