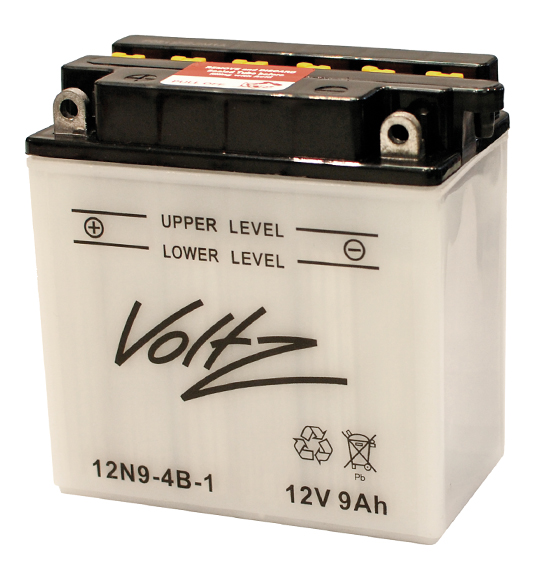 High performance, low price, lead-acid type batteries - Voltz offers a wide selection of replacement batteries. Available for motorcycles, ATV's, Golf buggies, Jet Skis and many other applications.
Finding it hard to track down your battery? Then check out our extensive listing.
*See pdf below for battery fitment chart. Can't find your battery? Then please refer to our NANO GEL Battery listings.
Product #
Description
RRP *
Dealer
311.0052
6N4-2A-4 BATTERY CLOSE OUT
$ 20.50
Find a dealer
311.0055
6N4-2A-5 BATTERY
$ 18.53
Find a dealer
311.0100
6N4B-2A BATTERY closeout special
was $ 18.53
now $ 12.02
Find a dealer
311.0130
6N4B-2A-3 BATTERY
$ 18.53
Find a dealer
311.0220
6N6-3B BATTERY
$ 24.86
Find a dealer
311.0230
6N12A-2D BATTERY CLOSE OUT
$ 54.29
Find a dealer
311.0335
YB3L-A BATTERY CLOSE OUT
$ 21.45
Find a dealer
311.0336
YB3L-B BATTERY CLOSE OUT
$ 21.45
Find a dealer
311.0338
YB4LA BATTERY CLOSE OUT SPECIAL
was $ 35.40
now $ 18.04
Find a dealer
311.0340
YB4L-B BATTERY CLOSE OUT SPECIAL
was $ 28.42
now $ 18.44
Find a dealer
311.0342
YT4B-5 BATTERY (YTX4B-BS) CLOSE OUT
$ 41.43
Find a dealer
311.0343
YT4L-BS BATTERY CLOSE OUT
$ 32.77
Find a dealer
311.0344
YTX4L-BS BATTERY
$ 36.09
Find a dealer
311.0345
YB5L-B BATTERY CLOSE OUT
$ 34.36
Find a dealer
311.03472
YTZ5 S BATTERY special
was $ 46.50
now $ 31.91
Find a dealer
311.0348
YTX5L-BS BATTERY CLOSE OUT
$ 36.26
Find a dealer
311.0357
YB7L-B BATTERY A-TECH
$ 50.53
Find a dealer
311.0359
YT7B-4 BATTERY A-TECH ( same as YT7B-BS )
$ 65.26
Find a dealer
311.0360
YTX7L-BS-can use GT6B-3 BATTERY
$ 54.79
Find a dealer
311.0362
YTX7A-BS BATTERY
$ 61.21
Find a dealer
311.0365
6YB8L-B BATTERY special
was $ 24.25
now $ 12.51
Find a dealer
311.0375
YB-9B BATTERY A-TECH CLOSE OUT SPECIAL
was $ 51.50
now $ 33.40
Find a dealer
311.0385
YB9L-B BATTERY CLOSE OUT SPECIAL
was $ 60.48
now $ 40.80
Find a dealer
311.0387
YB9L-A2 BATTERY special
was $ 51.50
now $ 40.80
Find a dealer
311.0390
YTX9-BS BATTERY CLOSE OUT
$ 62.71
Find a dealer
311.1100
12N5-3B BATTERY A-TECH CLOSE OUT
$ 33.13
Find a dealer
311.1140
12N5.5-3B BATTERY A-TECH CLOSE OUT
$ 42.13
Find a dealer
311.1145
12N5.5A-3B BATTERY A-TECH CLOSE OUT
$ 43.99
Find a dealer
311.1150
12N7-3B BATTERY A-TECH CLOSE OUT
$ 45.08
Find a dealer
311.1195
12N7-4A BATTERY A-TECH CLOSE OUT
$ 44.17
Find a dealer
311.1200
12N9-3B BATTERY A-TECH CLOSE OUT
$ 55.24
Find a dealer
311.1230
12N9-4B-1 BATTERY CLOSE OUT
$ 70.74
Find a dealer
311.1251
YB10L-A2 BATTERY
$ 88.21
Find a dealer
311.1260
YB10L-B BATTERY A-TECH CLOSE OUT
$ 66.47
Find a dealer
311.1400
YB12A-A BATTERY
$ 67.07
Find a dealer
311.1408
CB12A-B BATTERY CLOSE OUT SPECIAL
was $ 69.74
now $ 51.66
Find a dealer
311.1411
YT12B-BS BATTERY SPECIAL
was $ 134.49
now $ 91.10
Find a dealer
311.1412
YB12B-B2 BATTERY CLOSEOUT SPECIAL
was $ 47.75
now $ 23.12
Find a dealer
311.1413
YB12C-A BATTERY special
was $ 67.07
now $ 39.11
Find a dealer
311.1415
YTX12-BS BATTERY A-TECH CLOSE OUT
$ 76.15
Find a dealer
311.1420
YB12AL-A BATTERY A-TECH CLOSE OUT
$ 70.20
Find a dealer
311.1450
12N12A-4A-1 BATTERY A-TECH CLOSE OUT
$ 61.62
Find a dealer
311.1460
12N14-3A BATTERY A-TECH
$ 69.98
Find a dealer
311.1461
YB14-A2 BATTERY AERO CLOSE OUT SPECIAL
was $ 70.71
now $ 45.87
Find a dealer
311.1465
YB14A-A2 BATTERY will sub for YTX AH-BS YFM350
$ 82.33
Find a dealer
311.1470
YB14L-A2 BATTERY A-TECH
$ 75.43
Find a dealer
311.1472
YB14L-B2 BATTERY A-TECH CLOSE OUT
$ 77.97
Find a dealer
311.1475
YTX14-BS BATTERY (use 314.1476)
$ 90.79
Find a dealer
311.1480
YT14B-4 Battery L150xW70xH145 SPECIAL
was $ 162.69
now $ 72.31
Find a dealer
311.1481
YT14B-BS BATTERY SPECIAL
was $ 91.72
now $ 72.33
Find a dealer
311.1540
HYB16A-A BATTERY A-TECH CLOSE OUT
$ 84.51
Find a dealer
311.1543
YB16B-A1 BATTERY special CLOSE OUT
was $ 98.83
now $ 72.29
Find a dealer
311.1550
YB16-B BATTERY A-TECH CLOSE OUT SPECIAL
was $ 102.78
now $ 66.67
Find a dealer
311.1552
YB16L-B BATTERY A-TECH CLOSE OUT
$ 106.52
Find a dealer
311.1555
YB16AL-A2 BATTERY A-TECH
$ 87.80
Find a dealer
311.1690
Y50-N18A-A BATTERY
$ 116.95
Find a dealer
311.1692
12N18-3 BATTERY special CLOSE OUT
was $ 74.70
now $ 36.07
Find a dealer
311.1694
C50N18L-A BATTERY A-TECH
$ 106.33
Find a dealer
311.1700
Y50-N18-L-A2 BATTERY CLOSE OUT
$ 111.41
Find a dealer
311.1710
YTX18-LBS BATTERY special
was $ 149.59
now $ 90.46
Find a dealer
311.1715
51913 BATTERY special CLOSE OUT
was $ 103.42
now $ 78.18
Find a dealer
311.1722
YTX20L-BS BATTERY
$ 132.85
Find a dealer
311.1725
YTX20CH-BS BATTERY Aero CLOSE OUT
$ 133.59
Find a dealer
311.1744
12N24-3 BATTERY A-TECH CLOSE OUT
$ 125.32
Find a dealer
311.1745
12N24-4 BATTERY A-TECH CLOSE OUT SPECIAL
was $ 105.41
now $ 68.91
Find a dealer
311.1750
Y60-N24L-A BATTERY A-TECH CLOSE OUT
$ 133.85
Find a dealer
311.1780
CB30L-B BATTERY AERO CLOSE OUT
$ 178.80
Find a dealer
* including g.s.t. but excluding freight charges if any
** excluding g.s.t. and freight